Old Boy Igor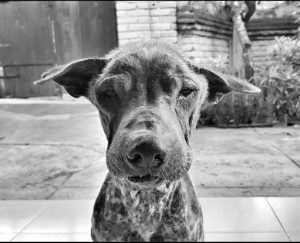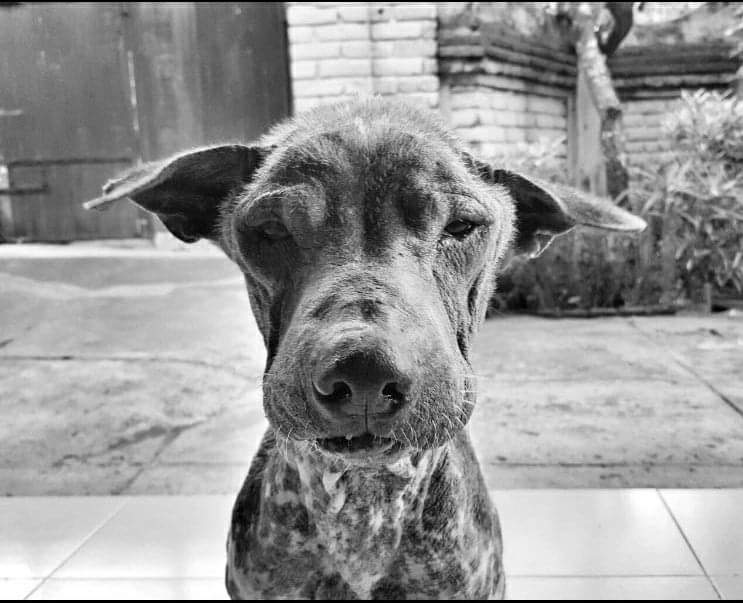 7th of November 2016 would forever change my life. 
I was on a mission to buy myself a helmet & for some reason the universe guided me down one of the most busiest roads in Bali.  After purchasing a helmet, I was on my way back to the motorbike when something strange, dark & shadowy in the gutter caught my eye. I didn't realise what it was at first & when the realisation hit me, I was shocked beyond belielf.
There, curled up in the tightest of balls was a dog.  Completely bald. His eyes could barely open from the infection.  The worst case of neglect, abuse & abandonment I've ever experienced in all my life.  I'm pretty confident this may also be the worst case anyone would ever come across in their rescue life – but then, I'm biased.
I enquired around as whether this dog had an owner.  The usual answer of "no" kept coming back to me. I knew I had to rescue him, help him but at that moment, I had nothing with me.  I didn't want to disturb him because he was literally sleeping, wedged in the gutter of the road, next to millions of scooters & cars zooming past.
The next day Igor was to be rescued.  He didn't make it easy. He wasn't afraid.  He was angry.  He was angry at who I was & why I was disturbing him.  He was king of his domain. What he had learned to claim as his own as I later found out for the past ten years as his home.  The gutter on the side of one of Bali's busiest roads.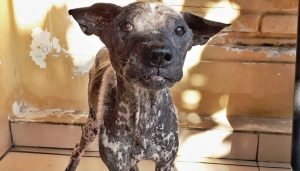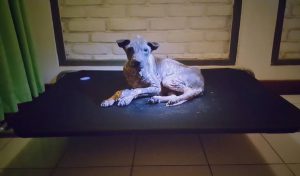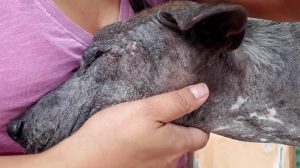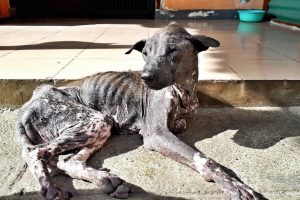 Igor's life story began to unfold over the next few hours of attempting to rescue him.  I soon found out Igor did have a family.  They claimed he was aggressive.  They claimed he was a terrible dog.  They didn't want him anymore & so they abandoned him at the front of their house. In most cases, abandonment happens in a different suburb or place.  Not Igor.  He was pushed out of his home, the only place he knew & literally kicked to the curb.  Igor's face was bashed in.  His teeth were completely missing, except for his "fangs".  His tail had been broken in 3 -5 places. His skin was dead.  He was lucky to have a small tuft of hair on the top of his neck. His entire body was riddled with fungus.  Fungus that had over taken his body for an unfathomable amount of time.  Not days.  Not weeks.  Not months.  Years.  He lived with this condition for years.
Eventually Igor was rescued with the help of the vet & his "owner" who gave Igor one last kick to his back to get him inside the transportation cage. Igor's rescue video posted on YouTube has caused a lot of controversy.  It has brought a tirade of different opinions based on my inability to rescue him, to how abusive his owner was to him, to me being an Angel.  Irrespective of all negative opinions, I did my best with what equipment I had based on the environment surrounding the rescue.
Igor hated me at the start.  He voiced his anger at me on a regular basis.  Igor's diagnosis was dismal.  He had chronic Malesezzia Fungus which changed the pigmentation on his skin.  He had chronic kidney failure. He would never heal again, even after treatment.  The most important thing for Igor was to be socialised with humans & dogs.  The only way to do this was to board him at a professional facility where he would receive the best care as well as training.  I knew Igor didn't have long left in him.  All I wanted him to do was come home with me so I could take care of him for the remainder of his time.
After three long months, Igor was ready to come home with me.  He had his own little house at my front door & just on the inside of the front door, he had his bed in the night time.  He enjoyed his walks.  He walked the streets on his leash like he was King.  No matter what he looked like & how many people stared at me accusingly for neglecting my dog, I knew Igor was happy deep down inside.  He scared the life out of everyone & every dog who came near him.  He accepted my pack of rescue dogs at the front of the house graciously.  It was like he knew he was finally home & very accepting.  He begrudgingly accepted his weekly medicated baths & soaks in empson salts & his eyes would light up every meal time.
Igor was happily settled into his routine until exactly nine months later.  Within three days I noticed the decline in him.  His loss of appetite. His loss of interest to drink water. His loss of interest to go for his walks and on the third day of his decline, he clearly let me know it was time to let him go.
Igor would run, almost skip from one side of the garden to the other & gaze up at the sky.  I was certain his eye sight suddenly diminished because I would call his name & he would gaze up at the sky then follow the sound of my voice.  He nudged his head into my chest for the first time since his rescue & he stayed in that position for a good ten minutes. I felt his appreciation, gratefulness & love pour onto me at that moment.  It was as if he was thanking me for saving him & giving him what would be the best 9 months of his eleven year life.
I wanted nothing more than for Igor to go on his own with dignity however, with chronic kidnely failure looming over him at that point & the history of the previous three days, I didn't want him suffering & I knew he was letting me know it was time for him to go & telling me it was ok for me to help him.  He laid down graciously without an angry or defensive bone in his body.  He laid still as I caressed & spoke to him lovingly.  Tears were streaming down my face & all I could tell him was "it was ok.  He could go".  I was grateful to have been part of his life albeit short with me.  I knew he had all the love he could possibly have in the last nine months with me.
Today Igor still stays with me on the table with his collar lovingly draped across his ashes.  Over a year later, I still think of him often & I think about how his rescue, he – has inspired me to keep going, fight harder, speak louder for the dogs of Bali suffering abuse, neglect & abandonment every single day.
His name is Igor. He is my pillar of strength.  My reason to keep going strong.